White Pass Highway Shopper Newspaper, May 15, 2013, Packwood, Southwest Washington State, tourist, recreation, flea, forest, fishing, hunting, hiking, camping, logging, Mt. St. Helens, Mt. Rainier, classified, skiing
See our current masthead and front page cover here: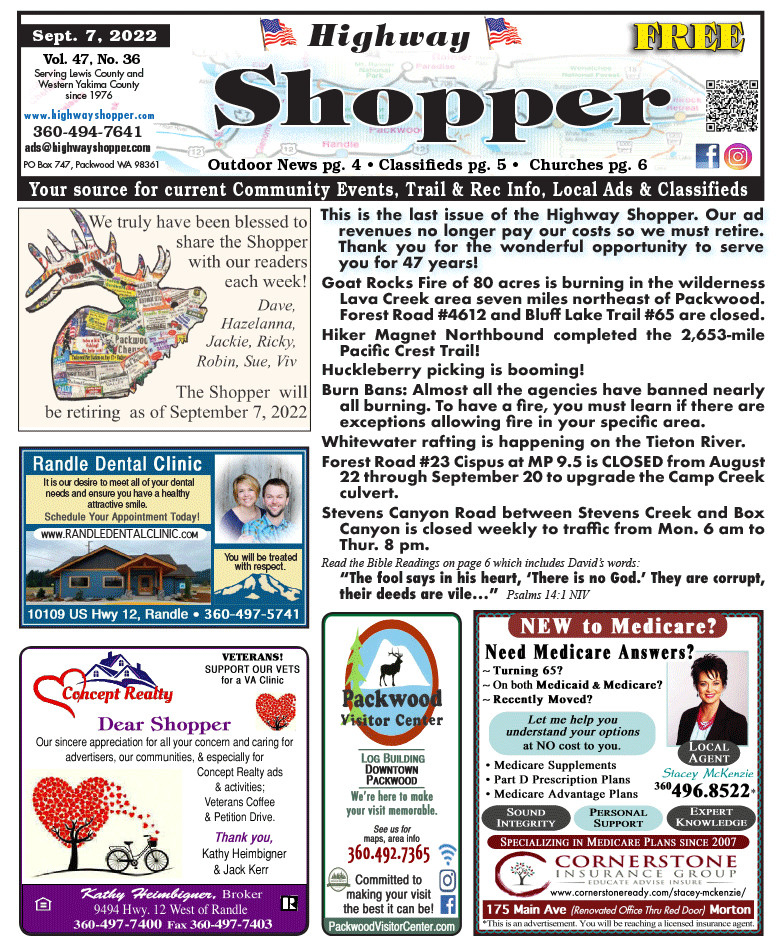 ALL THE PAGES of the HIGHWAY SHOPPER are on this WEB SITE!
Click on a PAGE to view the Full Page.
Click on an Ad within the Page to view Selected Customer's Web Sites.
| | | | |
| --- | --- | --- | --- |
| | | | |
| | | | |
| | | | |
| Page 5 | Page 6 | Page 7 | Page 8 |
| | | | |
| Page 9 | Page 10 | Page 11 | Page 12 |
| | | | |
| Page 13 | Page 14 | Page 15 | Page 16 |
Shopper Visitor's Guide-Summer 2012

Winter TOUR
Stay & Play
2012-2013
Shopper Classified Ads:
Packwood Webcam:

Packwood, Washington Grade School
Dots obscure street lights which otherwise blow out the image at night.
See Complete Packwood Weather
White Pass Highway Shopper
Most effective advertising at the lowest prices since 1976!
Weekly current recreation report covering all outdoor activities including fishing, hunting, hiking, camping, skiing, mushroom, berry and firewood gathering around Mt. St. Helens, Mt. Rainier and Mt. Adams in the Cascade Range forests along the White Pass Highway in southwest Washington State.
Weekly free circulation 6,500 through 270 local businesses.
Serving the Southwest Washington Communities of Packwood, Randle, Glenoma, Morton, Mineral, Mossyrock, Onalaska, Salkum, Ethel, Centralia, Chehalis and Naches.
World Wide Web Advertising - temporarily we are not accepting new web ad orders
PO Box 747, Packwood WA 98361

(360) 494-7641

FAX (360) 494-6431
Toll Free (800) 992-3219 in Washington and Oregon only

See a map showing our area here: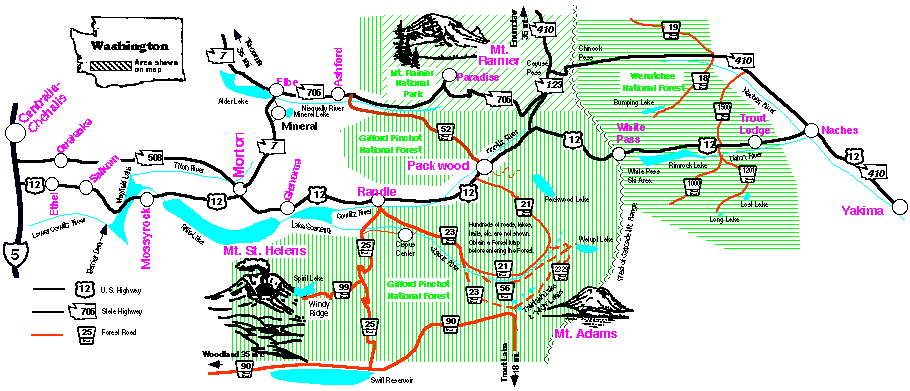 Contents of newspaper available on Web this week:
Tourist Guide AND Winter Stay & Play Guide
Tourist Guide to every product and service needed by a tourist in this area, including map.
Recreation Information:
Recreation Report: Weekly current report of skiing, hunting, fishing, camping, hiking, wildflower and fall color viewing, mushroom and berry picking, firewood cutting and all other recreational activities along a 150-mile stretch of Highway US 12 through White Pass crossing the Cascade Mountain Range in south-central Washington State. Much of our information comes from these sources:
Fishing Opportunities in Shopper Country including numbers of fish stocked in our lakes and streams
The Bull's "Thank You" - Publisher Dave Bunting's Oct., 2002 encounter with a 3-point bull elk entangled in cable in his yard.
Computer FAQ, our computer Q & A advice column.
Ask Dr. Kaia, our veterinarian answers questions about animals.
Lighthouse Living, our words to live by column.
Dr. Kaia's Web site: Naches Veterinary Services and Cuddles Doggie Salon
Packwood Flood Meetings,Reports and Info Read info on Packwood and area flooding, most recently January, 2011 and information related to Packwood Flood Meeting in May, 2010.
Welcome to the city of Naches, Washington
Local Current Weather Reports
Realtime weather conditions right now from King5's Schoolnet weather stations:
Washington State Dept. of Transportation webcam at White Pass
Weather from U.S. NOAA National Weather Service's Network Information Center
Packwood Current and Forecast Weather Links
Today's Pollen Levels
General Products and Services
Quick Links to Various Areas in and around Shopper Country
Real Estate
Lodging: Resorts, Motels, RV Parks and Campgrounds
Moonstone Beach Motel: Surfside motel at Moclips on the coast of Washington State. Walk the beach, dig clams in season, watch whales and sea lions.
Email or call us to put your lodging business here
Churches & Church Assistance
Let us put your church here (no charge)
Packwood Assembly of God
Internet Filters:
Shopper Advertising Rates-effective June 1, 2013
Display ad larger than 13 col. in.: $9.00 per col. in.

Display ad less than 13 col. in.: $9.85 per col. in.

Classified ads: 25¢ per word, min. $5.00 per ad.
Bold or Border, $2 extra

Directory Ads: $10.00 per week.
Ad Order Deadline is Friday noon for the following
Wednesday's Shopper.
Special discounts:
10% discount- Any size display ad for 4 or more consecutive weeks when paid by the 10th
25% discount- 13 col. in. or larger for four or more consecutive weeks with no changes.
Current charges must be paid by the 10th to receive any discount.
No multiple discounts.
Published every Wednesday. Ad order deadline preceding Friday at noon.

Mail subscriptions available 13 issues for $50, kind of expensive but we don't mail enough to qualify for bulk mail rates.

Meet the publisher Dave Bunting.

Hit Counter:
Last updated on date shown on masthead.